This is a very brief summary of the main activities that the Escarré International Centre for Ethnic Minorities and Nations (CIEMEN) is engaged in, or has been, for the 2016-2017 period.
KNOWLEDGE AREA
Renewed direction for Nationalia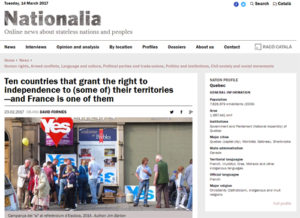 Nationalia has turned 10. It was time for a renewed direction for CIEMEN's signature online news site (www.nationalia.info) featuring stories, interviews, reports and more on stateless nations and peoples. From 2017 onward, Nationalia is including more in-depth stories and a weekly roundup. English version is by the moment lacking for some of the stories (not for the roundup), but we are working to overcome this problem. All in all, we can say it is the only news site of its kind. Suggestions for contents are welcome from you!
Summer School launched!
Starting from 2015, CIEMEN made a bid to offer specialized courses on issues related to stateless nations and minorities with a cross-cutting, gender perspective. 2015 and 2016 witnessed our first two courses on independence movements, but the highlight came in July 2016, when CIEMEN organized its first, long-awaited Summer School, which revolved on the issue of the rights of women, feminism and collective rights with a focus on minoritised communities in Barcelona. Pupils from half a dozen countries in Europe attended. In July 2017 the second edition of the Summer School will be organized, this time focusing on the maintenance of minoritised languages that newcomers recently brought to Catalonia (such as Amazigh and others) and the acquisition of Catalan by those people.
Plus: We continued to participate and to give support to the Mercator Network for Linguistic Diversity. Furthermore we kept and will keep on disseminating knowledge on stateless nations through speeches and articles (most especially Kurdistan, the Catalan Countries, the former USSR and refugees) and especially through a new series of dossiers known as Col·lecció Drets Col·lectius with three issues on economy, feminism and Indigenous peoples.
CATALAN COUNTRIES AREA
Awareness on the refugee crisis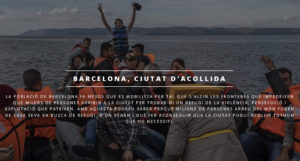 In September 2015 CIEMEN launched a call to ask Barcelona and Catalan authorities to have a leading role in refugee reception from Syria and the wider Middle East. As a second step of this, and with support from the Municipality of Barcelona, CIEMEN launched a website (barcelonaciutatdacollida.cat) containing information on refugees and their countries of origin, with an eye to both continue to raise awareness on this particularly critical issue and to explain how diverse (in terms of languages, peoples and religions) are the countries where those refugees hail from. The site also features practical information for those people who want to commit themselves in helping refugees. The launching of the site was also completed by a series of speeches on the situation of conflict-hit Turkey/Kurdistan, Syria and Iraq. One of those activities featured Kurdish Yazidi MP Feleknas Uca.
National Agreement for the Referendum
CIEMEN is one of the civil society associations supporting the National Agreement for the Referendum and participating in its meetings. In the forum, CIEMEN has been underlining the importance of reaching to international allies that could help Catalonia in securing its right to hold a referendum on independence from Spain. The forum brings together the main social, economic, political and institutional bodies of Catalonia that support the holding of such a vote. The Agreement has launched a campaign to gather support from individuals and associations, both in Catalonia and abroad, to a referendum. The manifesto can be signed in here: pactepelreferendum.cat
Plus: With support from the Municipality of Barcelona, CIEMEN organized in 2016 two courses on EU projects for Catalan civil society associations. Some 50 Catalan associations attended the courses, which will be offered again in 2017.
INTERNATIONAL AREA
Help to Yazidi refugees in North Kurdistan (Turkey)
In mid-2015 CIEMEN launched a project to help the thousands-strong Kurdish Yazidi refugee community that had sought shelter in North Kurdistan camps. The project went on until December 2016, and mostly focused on the right of the Yazidis to receive healthcare from the Turkish government, which was being denied to them. The worsening of the situation in Turkey, and the dismantlement of the camp where the Yazidi refugees were being helped, forced CIEMEN to stop that assistance.
Linguistic Diversity Summit 2016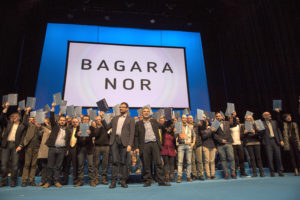 CIEMEN is one of seven international organizations that, together with well-known international experts, have drafted a new Protocol to Ensure Language Rights (protokoloa.eus). This work was done within the framework of the Linguistic Diversity Summit, which was held in Donostia/San Sebastián (Basque Country) in December 2016. As a part of the Summit, the Protocol was fully unveiled. The text –which builds upon an earlier CIEMEN proposal, the Universal Declaration of Linguistic Rights– proposes some 180 measures aimed at ensuring the granting of linguistic rights for speakers of all communities, be those languages official or not, big or small.
Meeting of political foundations
In December 2016 CIEMEN hosted a meeting of political foundations –and political parties if they do not have a foundation of their own– of Spain. Participants from Catalonia, the Valencian Country, Mallorca, Aragon, the Basque Country and Galicia took part in the meeting, which was the first ever that brought together all those political foundations. The foundations agreed to prepare a new meeting –possibly before summer 2017– and voiced their support to Catalonia's road to self-determination.
Plus: The Network for the Collective Rights of Peoples was left with little activity during 2016 over financial issues, albeit CIEMEN met with possible/prospective future partners/allies in Sweden, France and Germany. It is in CIEMEN's aim to hold a GA before the end of 2017 and to redefine a way to have the Network at least doing one activity per year.